IdiotProof Salmon
Single chefs, couples cooks, dinner party people – get excited! This recipe is for all of you.
This is my
IdiotProof Salmon
–
the easiest salmon recipe you will ever make
.
I even tested this out by sending it to a friend who was looking for an easy recipe to make for a date. He immediately emailed me the next day and said it "turned out so delicious, not quite sure why…but it did!"
The instructions are very simple, but there are two keys to this dish:
Use FRESH (never, ever previously frozen) salmon.
I've tried it with previously frozen, and it just does not come out as well. I also think it works best with Fresh Atlantic Salmon, moreso than sockeye or coho.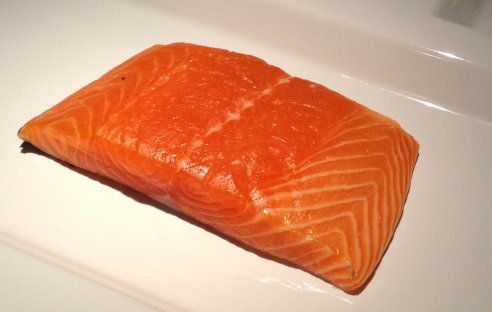 This is what a fresh 6oz portion of salmon should look like
Even if previously frozen is on sale, I would splurge for the fresh. It's usually not that much more and if you are buying less than a pound, how much are you really saving?
Get a great seafood rub.
My personal favorite that I use on this dish is Pike Place Fish rub.
The best $4 you will ever spend (gluten free)
You can find it at Whole Foods in the seafood section. You can also use this cooking method with your own seasoning or other rubs (this particular one has brown sugar, paprika, cilantro, garlic, pepper onion, salt and spices).
You can make this with an entire salmon filet, 2 6oz portions or just one solo portion. I make it all the time when I am just cooking for myself because it takes less than 15 minutes.
IdiotProof Salmon
1 (or 2) 6oz portion of FRESH Atlantic Salmon
Seafood Rub
Lemon (if you choose for seasoning at the end)
Step 1
Layer a rimmed baking sheet with tinfoil and place salmon skin-side down. (foil makes for easy cleanup later)
Step 2
Rub the seasoning into the salmon.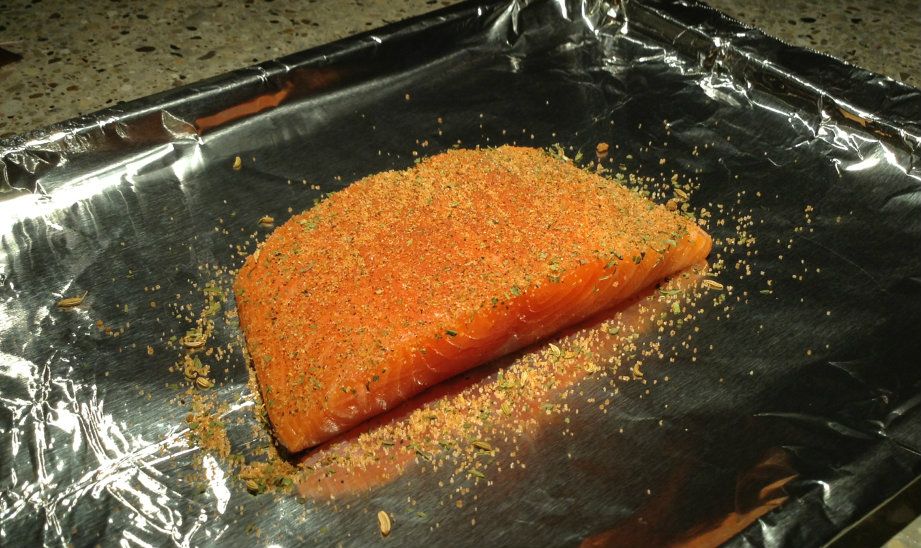 Step 3
Bake the salmon at 400 Degrees (F) for 12-14 minutes.
(I only bake mine for 12 minutes and it turns out perfectly. If you are cooking a bigger portion, you may want to go to 14 minutes.)
Salmon will be done when it looks light pink on the sides and flakes easily with a fork.
Step 4
Remove salmon from sheet by sliding spatula between salmon and skin. The skin should stick to the tinfoil and you can just throw it away!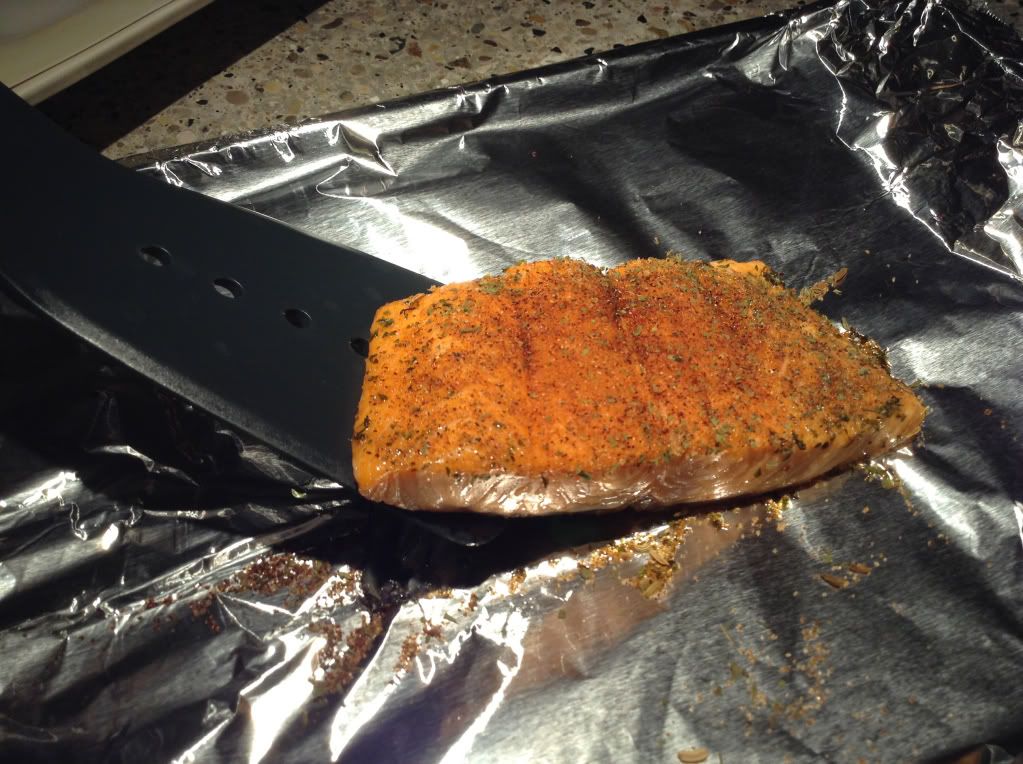 Step 5 - Enjoy!
That's it. I promise, you can't screw it up.
The rub forms a wonderful crust on top, and the inside stays moist and delicious.
While the salmon is cooking, I usually whip up a salad, my
Garlicky Kale
or stick some asparagus in the oven. Add some brown rice or quinoa for a mega-healthy superfood meal.
Spinach salad with goat cheese, roasted pecans (Trader Joes), tomatoes and balsamic
I crave this salmon - I eat is as my pre-race meal, post workout meal and everything in between. It's so easy, I go on auto-pilot when I make it - I had to actually pay attention to what I was doing when I made it on Wednesday for my post-yoga dinner!
I flipping *love salmon* so this is just the first of many salmon recipes you will be seeing on here. I promise this is as easy as Season, Bake, Enjoy!
Xo,