Garlicky Kale with Spinach & Mushrooms
Woo! I finally did it. I pulled the trigger and launched The Fit Girl's Kitchen - a healthy lifestyle blog featuring my favorite recipes and how I incorporate them with running, yoga (and the occasional triathlon) to maintain a healthy balance.

I often have friends ask me for recipes that I post on
Instagram
, so I figured what better way to start than with one of those! This has become one of my side staple dishes in the past few months and a great way to incorporate kale into your diet.
A few tips on working with kale...
It's bitter. Flavor is easily added when it is cooked and can absorb it.
It's tough. Kale is a tough leafy plant, but when sauteed or steamed it will wilt.
There are multiple varieties of kale. I prefer to cook with Dinosaur Kale (aka Tuscan, Lacinato or Black kale) because I feel the leafs are more hearty, don't wilt as easily and taste better.
It will shrink to about 5x less than what you started with. One bunch of Kale like the one pictured below will wilt down to serve 2 people. Crazy right?? But the best part is, you are still eating the same amount so you get all of the great nutrients and stay filled up.
Garlicky Kale with Spinach & Mushrooms
Serves 2
1 bunch dinosaur kale (I get mine at Whole Foods) coarsely chopped, stems discarded
2-3 tablespoons olive oil
2 fresh garlic cloves, finely chopped
1 cup sliced mushrooms (portabella or white work fine)
1/3 cup low sodium chicken broth (optional)
2 handfuls fresh spinach leaves
Lemon Juice
Salt & Pepper to taste
Instructions
As a disclaimer, I rarely measure anything and eyeball almost everything so writing this was quite the challenge!
In a large sauté pan, heat 2 Tbs of the olive oil. Add the mushrooms and sauté over medium heat, about 3 minutes. Add the garlic and stir just until fragrant, about 1 minute.
Now add the kale in large handfuls, letting it wilt slightly before adding more. Season with salt and pepper; cover and cook over moderate heat until the kale is tender, about 5 minutes. Add more olive oil if necessary or you can also add 1/3 cup of low sodium chicken broth if you choose.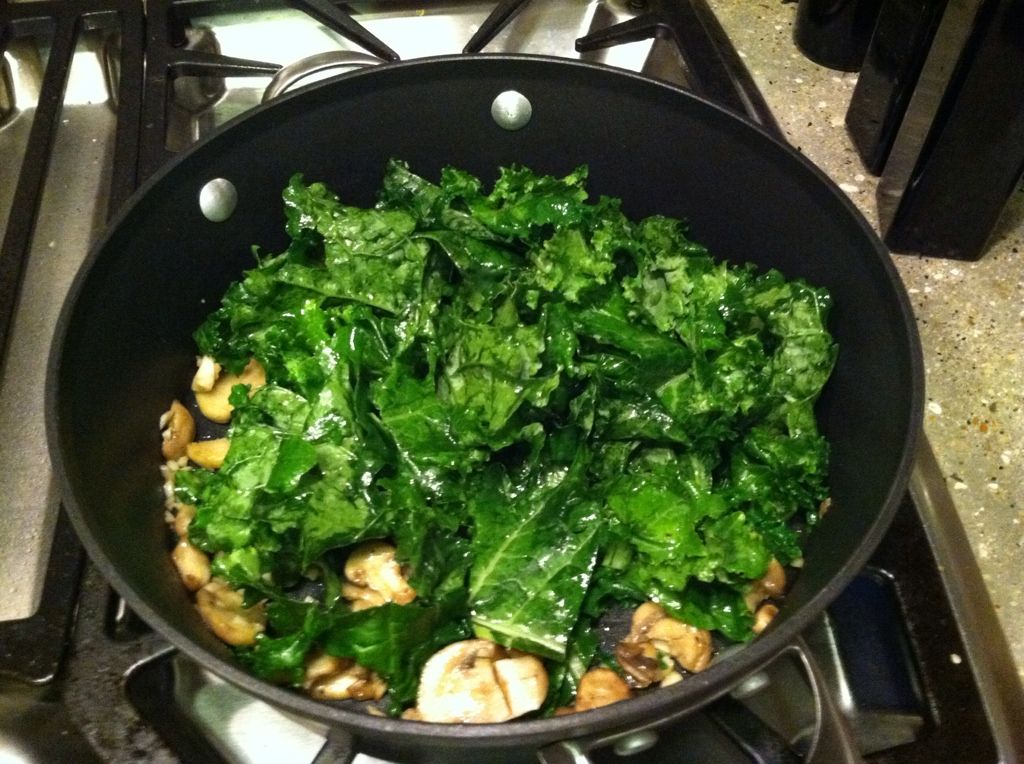 The key is not to add the spinach until the very end – it will wilt in under a minute, and soggy spinach = yuck.
Remove the lid and cook until the liquid has evaporated, about 3 minutes longer. In the final minute, add the spinach and stir until wilted. Season with fresh lemon juice and salt & pepper to taste.
The amazing flavor the kale will pick up from the garlic will blow your mind. It is so flavorful and pairs well with anything from chicken to roasted salmon (seen here).
Even the pup wants in
Recipe for my "IdiotProof Salmon" coming soon – stay tuned!
Xo,