Spaghetti Squash with Feta & Roasted Shrimp
My favorite new addition to my recipe rotation has to be spaghetti squash. It has the triple threat quality of being mega-healthy, easy to cook and big enough to produce great leftovers.

I have to admit I was a tad intimidated when I set out to conquer the large yellow looking pumpkin sitting on my counter, but all recipes assured it was as easy as purchase, bake, and shred.
Sort of.
Here are some friendly tips for conquering your squash.


Get a sharp knife. At some point, whether you choose to bake the squash cut in half or you choose to cut the squash after you bake, you will have to cut it. It is more difficult than you may imagine.
Treat the squash like you would a pumpkin. A carving pumpkin, that is. If you've ever carved a pumpkin, you know that there is a sawing motion involved. Once I figured this out, the squash cutting got much easier.
Beware of your friend, olive oil. One method involves baking the squash for 20 minutes to soften it up a bit...I tried this my second time and my squash went flying across the counter like a greased up watermelon with a knife in it.
Once you get your squash halved, I swear it is the easiest thing ever to make! And it is such a great alternative for pasta, you will find yourself craving it all the time.
I chose to add some roasted shrimp to this variation, which gives it a shrimp linguine sort of feel. Let's get cooking...
Spaghetti Squash with Feta & Roasted Shrimp
1 spaghetti squash, halved lengthwise and seeded
Olive Oil
1 yellow onion, chopped
2 cloves garlic, minced
1 1/2 cups
chopped tomatoes (about 2)
3/4 cup crumbled feta cheese
2 tablespoons chopped fresh basil
1 lb (or however much you want) large shrimp, peeled and deveined
There are three methods I have seen for cooking squash -
Cut in half and bake for 30 minutes
Bake entire squash for 15 minutes, cut in half and and bake for an additional 20
Bake entire squash for 60 minutes
These all seem to produce the same desired result, so I think the first method is the easiest since this is what the squash will look like when you cut it open...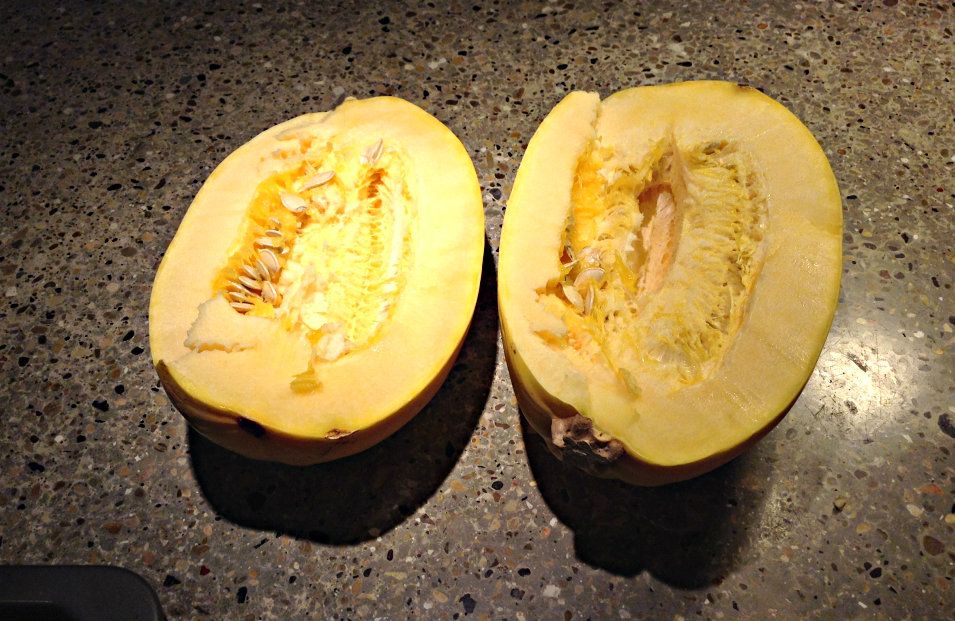 You have to scrape out the seeds and pulp like you would a cantaloupe or pumpkin, and its easiest to do it when the thing isn't piping hot. When you are done, it should look like this:
Directions
Preheat your oven to 350. While it preheats, cut and seed your squash. Season with salt and pepper and place cut side down on a greased baking sheet (I used an olive oil spray). Bake for 30 minutes.
While the squash bakes, heat oil over medium heat in a saute pan. Saute onion until tender (I usually do for almost the entire time the squash bakes, about 20 minutes).
It looks like it will be too much onion when you cut it up, but it cooks down a bit. Remember, you are adding it to what would be equivalent to an entire pound of pasta.
Add the chopped garlic, and cook for 2-3 minutes. Then add the chopped tomatoes during the last few minutes. Season with salt and pepper.
Take the squash out of the oven. You will know it is done when you can easily pierce it with a fork.
Toss shrimp in olive oil and salt and pepper on a rimmed baking sheet. Flip the squash over to let it cool. While it's cooling,
stick shrimp in the oven at 375
for 8-10 minutes.
Now comes the fun part - shredding! The squash will shred easily with a fork into spaghetti-like strands (get it?)
Add the shredded squash to a bowl with the onion-saute combo. Then toss in the feta and shredded basil.
Season with salt and pepper to taste. You shouldn't need to add any additional olive oil but if the mixture is too dry, you can.
Add shrimp, accent with fresh parsley or more basil and voila!
Spaghetti Squash with Feta & Roasted Shrimp
It is so so delicious, and such a great healthy alternative to pasta. Keep the leftovers and eat for lunch for the next few days!
::
Coming up next week ::
Yoga 101
and
IdiotProof Salmon.
Get excited.
Xo,